*This quote does not include: sink, plumbing fixtures, chandelier/ pendant light fixtures, and all appliances.
Demolition, preparation, disposal, design consultation, and project manager.​
Removal of old fixtures if necessary, relocation of outlets, installation of project provided ceiling LED cans, under-cabinet puck lighting, and connection of all electrical appliances. ​
Disconnecting and hook up of all plumbing/appliances, includes relocation/moving of plumbing such as the dishwasher sink lines when necessary.​
Installation of project provided cabinets per the selected design.​
Installation of door and drawer project provided hardware from Hardware Resources.​
Templating, fabrication, and installation of project provided quartz or porcelain countertop options, plus cutouts for sink or cooktops per design.​
Preparation and installation of project provided tile or porcelain slab material. ​
Relocation of either one air vent or gas line.​
All project provided paint materials in customers' choice of wall color, priming, sanding, and paint with all trim and ceilings painted white, including removal of wall paper when required. ​
Removal and disposal of waste/trash, debris, and cleaning of all affected work areas. ​
Ask About How To Customize Your Kitchen With These Upgrades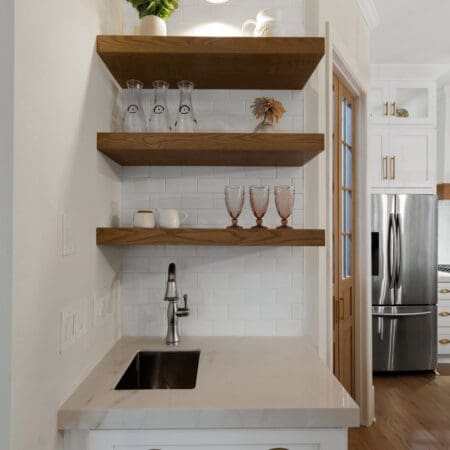 When it comes to remodeling your kitchen, planning the design isn't the only preparation work you will need to do. Learn how to prepare your kitchen and home for the construction that will take place.