Remodel Your Home
With Coastal Floors
Project Manager
Project Preparation Services
Design Services
Site Demolition and Disposal
Tile Preparation Services
Plumbing Services
Vanity Cabinets
Vanity Cabinets Hardware
Sinks
Countertops
Toilet
Two Mirrors
Wall Tile
Floor Tile
Decorative Tiles
Shower Floor Tile
Shower Niche
Shower Pan Construction
Frameless Shower Glass
Framing
Sheetrock Work
Paint
What's Included In The Master Bath Remodel?
Meet to discuss the selection of the following items: Wall tile, floor tile, decorative tiles, grout selection, vanity cabinets, sinks, vanity cabinet hardware, mirrors, frameless shower glass, shower fixtures, vanity faucets, toilet, exhaust fan, receptacles, paint, towel rack, and toilet paper holder.
Includes project status and updates via face to face, phone, or email from start to finish.
Project Preparation Service
Includes pre-start drawings, existing floor protection, utility inspection and customer question-and-answer with a review of the design and layout.
Site Demolition & Disposal
Includes removal and disposal, via rolling dump trailers, of all items to be replaced or updated including: plumbing mechanical and fixtures, electrical fixtures, vanities, mirrors, exhaust fans, towel holders, toilet paper holders, baseboards, tile, and sub-straights.
Includes wood framing for tub and/or shower, shower drain installation, construction of shower pan with pro slope and waterproofing, cement board installation, single niche, and bench construction.
Tiling Services & Setting Supplies
Includes labor for sub floor, wall, shower floor, and decorative tile work, and all necessary setting supplies for installation and completion. Optional custom inlays and soaker tub surround walls.
Installation of customer supplied fixtures.
Rough-in, trim out and installation of all customer supplied vanity light fixtures, switches, can lights, outlets, and exhaust fans.
Sheetrock Repair & Paint Services
Includes sheetrock (repair or replacement) and paintings of walls, ceiling, and trim. Baseboard installation and wallpaper removal included as well.
Countertop choices include granite, quartz, or porcelain. Undermount porcelain sinks are provided with countertop installation.
Includes vanity cabinets installed with knobs and pulls and leveling. Optional tall linen cabinet design with installation. All cabinets are plywood, full extension, dove tail, and soft close.
Includes a frameless shower glass with matching hardware.
Accessory Fixtures - Toilet Paper Holder, - Towel Bars / Hooks, - Two Mirrors (24 x 36)
Want More Bling? Ask About These Upgrades
Project Manager
Project Preparation Service
Design Services
Site Demolition and Disposal
Plumbing Services
Electrical Services
Tile Preparation Services
Sheetrock Work
Paint
Vanity Cabinets
Vanity Cabinets Hardware
Countertops
Baseboards
Quarter Round
Toilet
Mirror
Wall Tile 
Floor Tile
Sinks
Towel Rack
Toilet Paper Holder
Tub Surround Tile
All items included in remodel overview.
Includes tub surround tile.
Removing tub and replacing with a shower. It includes shower floor tile, decorative tiles, shower niche, shower pan construction.
*This quote does not include: sink, plumbing fixtures, chandelier/ pendant light fixtures, and all appliances.
Demolition, preparation, disposal, design consultation, and project manager.​
Removal of old fixtures if necessary, relocation of outlets, installation of project provided ceiling LED cans, under-cabinet puck lighting, and connection of all electrical appliances. ​
Disconnecting and hook up of all plumbing/appliances, includes relocation/moving of plumbing such as the dishwasher sink lines when necessary.​
Installation of project provided cabinets per the selected design.​
Installation of door and drawer project provided hardware from Hardware Resources.​
Templating, fabrication, and installation of project provided quartz or porcelain countertop options, plus cutouts for sink or cooktops per design.​
Preparation and installation of project provided tile or porcelain slab material. ​
Relocation of either one air vent or gas line.​
All project provided paint materials in customers' choice of wall color, priming, sanding, and paint with all trim and ceilings painted white, including removal of wall paper when required. ​
Removal and disposal of waste/trash, debris, and cleaning of all affected work areas. ​
Ask About How To Customize Your Kitchen With These Upgrades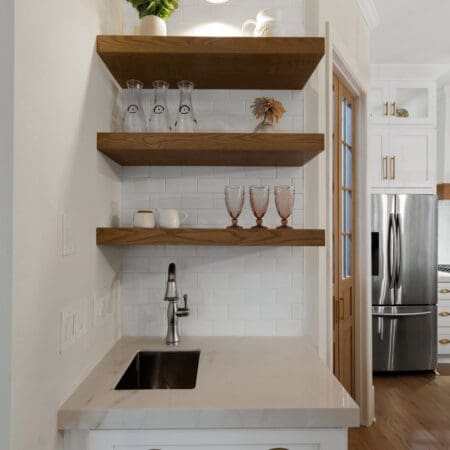 When it comes to remodeling your kitchen, planning the design isn't the only preparation work you will need to do. Learn how to prepare your kitchen and home for the construction that will take place.